Alexandria Ocasio-Cortez Democratic Socialist
---
===
*Reference
Alexandria Ocasio-Cortez - KeyWiki
Jun 6, 2018 - Alexandria Ocasio-Cortez a former Bernie Sanders campaign staffer challenging longstanding incumbent Joseph Crowley in the Democratic ...
Justice Democrats - KeyWiki
May 2018, the board of Justice Democrats is Alexandria Ocasio-Cortez, and Saikat Chakrabarti.
Alexandria Ocasio-Cortez is a Democratic Socialists of America ... - Vox
22 hours ago - If you hadn't heard of Alexandria Ocasio-Cortez before last night, you're sure to know the name now. Ocasio-Cortez, a 28-year-old Bronx native ...
What It Means For Israel If Alexandria Ocasio-Cortez Is Democrats' Future
Forward Aiden PinkJune 27, 2018 and activist Linda Sarsour are vying with each other to laud Alexandria Ocasio-Cortez, who notched a David-and-Goliath upset victory over 10-term Rep. Joe Crowley in Tuesday's Democratic primary in New York. ... stinging comments about Israel on the campaign trail. Could her upset win be another sign that Democratic voters want the party to be more critical of the Jewish state? We're seeing a pattern where the activist core of the Democratic Party is becoming highly critical of Israel almost as a default position," Brooklyn College history professor KC Johnson, who has written about this shift, told the Forward on Wednesday. Read more:
https://forward.com/news/national/404213/alexandria-ocasio-cortez-israel-democrat-future/
Democratic Socialists Of America's Alexandria Ocasio-Cortez
: The Communist Millennial Face Of The Democrat Party trevorloudon Terresa Monroe-Hamilton | NoisyRoom.net. Democratic Socialists of America New York candidate Alexandria Ocasio-Cortez won in an ... NRA The socialist movement in America is real, it's dangerous... The election of Alexandria Ocasio-Cortez who openly despises the very system that makes America the greatest country in the world proves we must take every election seriously." Ocasio-Cortez is not shy in her views. She's a devout follower of socialist Bernie Sanders. Her platform promises the abolishment of ICE and the nationalization of healthcare using a single payer system. She promises to impeach President Trump as well. Other planks include Medicare for all, a universal jobs guarantee, no tuition for education at schools or universities, paid family and sick leave, housing as a human right, ending the war on drugs, demilitarization of the police, doing away with prisons, open borders and decriminalization for illegal aliens, an infrastructure overhaul using green energy, ending corporate donations in politics and a peaceful economy (whatever the heck that means). Her campaign even adopted the zombie-like "mic check" first seen at radical Occupy Wall Street protests in 2011. Like Obama, she is an expert organizer. Most communists are. She claims that ICE is running 'black sites' on the border where human-rights abuses occur. That's a blatant lie. In an interview with traitor media The Intercept's
@ggreenwald
,
@Ocasio2018
compared the violent Hamas protesters on Gaza border to the Ferguson protesters or teachers on strike
https://www.youtube.com/watch?time_continue=4&v=zuoKLLLpiuE …
Candidate who just defeated Rep. Joe Crowley called Israel's response to the Gaza border protests a "massacre." https://twitter.com/ocasio2018/sta
She's also an anti-Semite. Ocasio-Cortez called Israel's response to violent Hamas "protests" at the Gaza border a "massacre." She also went after Crowley for his alleged support for the transfer of the U.S. embassy in Israel from Tel Aviv to Jerusalem. Above is an interview with left-wing journalist Glenn Greenwald of The Intercept published on June 12. According to The Washington Free Beacon, "Ocasio-Cortez called the riots orchestrated by Hamas "political expression." Greenwald claimed Israel had shot "more than 1,000 peaceful, unarmed protesters in Gaza" as he formulated his question and read out a tweet quoting Ocasio-Cortez calling the violence a "massacre" perpetrated by the Israelis." She strikes me as racist in her extremes and certainly uber radical. She is very dangerous and could sweep away any remaining somewhat sane politicians in the Democrat Party. If she wins, she will herald in a whole new raft of young progressive communists who will follow in her wake.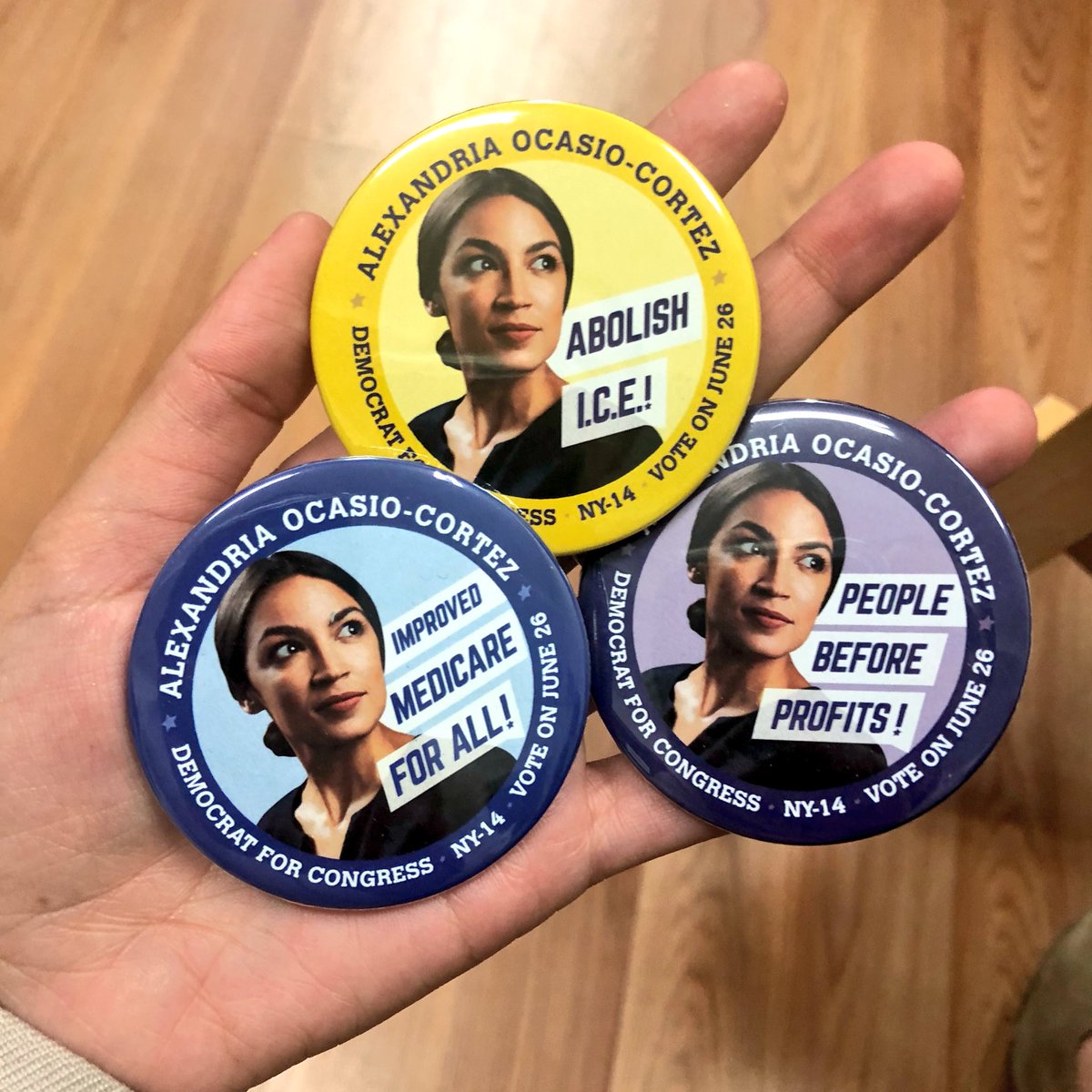 Alexandria Ocasio-Cortez ICE is operating exactly as designed when it rips screaming children from parents. That's exactly why we must abolish it.
Alexandria Ocasio-Cortez didn't have a Wikipedia page before ...
www.businessinsider.com/alexandria-ocasio-cortez-wikipedia-page-democratic-primar...
Alexandria Ocasio-Cortez won the Democratic primary in New York in a shocking upset Tuesday night. Before that, however, she didn't have a Wikipedia page ...
*Sources
Conservative media is freaking out over Ocasio-Cortez' primary win
thinkprogress
Right-wing pundits expressed dismay that a Democratic socialist had all but won a seat in the U.S. House of Representatives.
MELANIE SCHMITZ
JUN 27, 2018, 12:07 PM
Conservative media figures were shell-shocked by Democratic congressional candidate Alexandria Ocasio-Cortez's primary win Tuesday night, claiming it signaled the party had been "hijacked" by the extreme left. (CREDIT: FOX NEWS, SCREENSHOT)
Ocasio-Cortez, a 28-year-old Democratic socialist, ran on a platform of Medicare for all, tuition-free higher education, criminal justice reform, and
called for the Immigration and Customs Enforcement (ICE) agency to be abolished.
On Tuesday evening, she beat out incumbent Rep. Joe Crowley (D-NY) for the state's 14th District seat in the U.S. House of Representatives....
"I don't just question the patriotism of the 'abolish ICE' movement. I question their sanity, and the danger I see is that it's become a mainstream view," said Michelle Malkin, host of Conservative Review's Michelle Malkin Investigates, during an interview on Fox & Friends. ... "Ocasio-Cortez is a member of the Democrat Socialists of America.
more