How an Auto Mechanic Built the Air India 182 Bomb Using An Electronic Alarm Clock
---
===
tags: bomb engineering, Canada, air travel incidents, Sikh suspect
This story is completely unrelated to the clock brought into a school that was mistaken by stupid racist Islamophobic police for a hoax bomb.


*Wikipedia


Flight 182 747
Wreckage
On 3–6 June 1984, the Khalistan Sikh nationalist movement was sparked into action as
Prime Minister of India
Indira Gandhi ordered a military anti-terrorist attack called
Operation Blue Star
, also known the storming of the
Golden Temple
.
[12]
Militants led by
Jarnail Singh Bhindranwale
(who was killed in the attack) had amassed weapons in the
Sikh temple
, the militants demanded that Sikhs not be treated as second class citizens in India
[13]
[14]
[15]
and demanded equality through changes in the Indian constitution
[16]
[17]
or otherwise the creation of a Sikh state, Khalistan.
[18]
Some independent estimates of the death toll of the operation ran as high as 1500 civilian deaths, which led to an uproar amongst Sikhs worldwide.
On 31 October 1984, Indira Gandhi was
assassinated
by two of her
Sikh bodyguards
. In retaliation,
1984 anti-Sikh riots
, guided by certain
Indian National Congress
members, killed thousands of Sikhs in India.
[19]
Shortly after Blue Star, Parmar visited the auto mechanic and electrician Inderjit Singh Reyat, who lived in
Duncan, British Columbia
, a small community north of Victoria on Vancouver Island. He asked him to construct a bomb; Reyat later claimed he had no idea what it would be used for. Reyat asked various people in the community about dynamite, saying he wanted to remove tree stumps on his property.
[20]
Reyat also discussed explosives with a co-worker, while expressing anger at the Indian government and Indira Gandhi in particular.
[21]
Inderjit Singh Reyat
Later that year,
Ajaib Singh Bagri
accompanied Parmar as his right-hand man in the armed struggle against the Indian government. Bagri worked as a forklift driver at a sawmill near the town of
Kamloops
. He was known as a powerful preacher in the Indo-Canadian community.
[22]
The pair travelled across Canada to rally Sikhs to the cause of avenging the attack on the Golden Temple. They used the meetings as fundraisers for Babbar Khalsa. A former head priest in Hamilton testified that Bagri said, "the Indian Government is our enemy, the same way the Hindu society is our enemy."
[23]
Bagri told a congregation, "Get your weapons ready so we can take revenge against the Indian Government".
[23]
Bagri called for action: We are slaves in
Punjab
. Our brothers and sisters are being killed and so we have to stand up for ourselves. Nobody's going to help us. So to make our own state we need an army, we need ammunition, we need rifles to fight with the Indian Government to make our own state, Khalistan"
[23]
Bagri speech[
edit
]
On 28 July 1984, the founding convention of the
World Sikh Organization
(WSO) was held at
Madison Square Garden
in New York City. The WSO's constitution was committed to diplomacy and non-violence, and it said the organisation would "strive for an independent Sikh homeland by peaceful means." Though Parmar was blocked at the border (he had been put under 24-hour watch), Bagri gave an hour-long speech at the convention.
He said, "until we kill 50,000 Hindus, we will not rest," before an enraged crowd of 4,000 people; this statement was quoted against him at his later trial.
[24]
Bagri defended hijackers who had forced the 'hated' Indian government into negotiations with the Sikh leadership, and was critical of Gandhian non-violence. "We are to die in the battlefield, fighting, by sacrificing ourselves. To die such a death, which is the mission of the Khalsa, is our religion".
[25]
Militant Kashmiri and Afghan rebels also were invited to the rally.
[26]
An Afghan
mujahadeen
agreed, "we will bring together all movements against India because India allies itself with the
Soviet Union
." (At the time, the
Afghan-Soviet War
was underway, and many foreign mujahideen had gone there to help the Muslims.)
A professional translator testified that Bagri's speech in Punjabi had been distorted by failing to understand "its context within Sikh history and literature;" he denied that Bagri had urged Sikhs to take revenge against all Hindus. He conceded that Bagri was trying to "inflame passions and arouse national pride".
[27]
Plot preparations[
edit
]
In late 1984, at least two informers reported to authorities on the first abortive plot to bomb Air India Flight 182, which flew out of Montreal's
Mirabel International Airport
at that time. In August 1984, the known criminal Gerry Boudreault claimed that Talwinder Parmar showed him a suitcase stuffed with $200,000, payment to plant a bomb. He decided, "I had done some bad things in my time, done my time in jail, but putting a bomb on a plane ... not me. I went to the police."
[28]
In September, in an attempt to get his sentence for theft and fraud reduced, Harmail Singh Grewal of Vancouver told the
Canadian Security Intelligence Service
(CSIS) and the
Royal Canadian Mounted Police
(RCMP) of the plot to bomb the flight from Montreal. Both reports were dismissed as unreliable.
[28]
The moderate Sikh
Ujjal Dosanjh
had spoken out against violence by Sikh extremists. In retaliation, he was attacked on February 1985 by an assailant wielding an iron bar. His skull was broken and he required 80 stitches in his head. On 5 March 1985, the CSIS obtained a court order to place Parmar under surveillance for one year, just three months before the bombing. Although the Babbar Khalsa had not yet been officially banned, the
affidavit
stated, it "is a Sikh terrorist group now established in Canada", "has claimed responsibility for more than forty assassinations of moderate Sikhs and other persons in the Punjab," and "penned its name to threatening letters [addressed to]... high officials in India".
[10]
[29]
The affidavit said that on 15 July 1984, Parmar urged the Coach Temple congregation of
Calgary, Alberta
, to "unite, fight and kill" to avenge the attack on the Golden Temple.
[10]
[29]
Explosives and clocks[
edit
]
In April 1985, a Canadian familiar with blasting was asked by Reyat how much dynamite it would take to blow up a tree stump. Another friend who listened in recalled that Reyat was very agitated about "getting even for the sacrilege at
Amritsar
, he was almost talking like
Hitler
."
[30]
Reyat was not shy about telling everyone he knew around Duncan about the need for revenge, or asking about explosives. Reyat sought cases of dynamite and did not care if he had to pay three times the normal price. He eventually confided it was not about stumps, but "trouble in the old country", that he needed "explosives to help my countrymen."
[30]
One friend declined to get him dynamite, but did lend him a 400-page manual on mining with explosives.
[30]

On 8 May 1985, Reyat bought a Micronta digital automobile clock at the
Radio Shack
store in Duncan.
[31]
Designed for a 12-volt automobile electrical system, it could also be powered by a 12-volt lantern battery. The 24-hour alarm activated a buzzer, but he returned a week later for an electrical relay after asking how to get the buzzer signal to power another device. Wiretappers recorded nine telephone calls between Parmar's residence in Vancouver and Reyat from either his residence or workplace on Vancouver Island that month, which got Reyat added to the list of persons being monitored for terrorist activities.
[32]
The Canadian government would later accuse Reyat of lying in 2003 when at first he said he did not know what three clocks he had bought could be used for. He later said Parmar needed an explosive device to blow up a bridge or something large in India, and that he needed timers for an explosive device. In that case, the relay could be used to trigger the detonator circuit for a
blasting cap
which would provide the initial shock needed to detonate larger explosives such as dynamite.
[20]
[21]
Reyat later visited a television repair shop with a partially disassembled car clock wired to a lantern battery. He needed help so that the buzzer stayed on rather than intermittently beeping, so that it would turn on a light in his camper to wake him up. The repairman knew his friend did not own a camper, and it would even strike Justice J. Raymond Paris at Reyat's 1991 trial as an odd use for a timer.
[33]
Bomb tests[
edit
]
By mid-May, Reyat had gone into the woods to test a device with a 12-volt battery, cardboard cylinder, gunpowder, and some dynamite, but the device failed to work.
[34]
The wooded area was in proximity to Duncan and
Paldi
.
[35]
Later, Reyat acquired between six and eight sticks of dynamite "to blow up unidentified stumps if need be in the future" from a Duncan well driller after visiting his house to fix a truck. He also obtained a few blasting caps days later. On 31 May 1985, Reyat brought his timer, attached to a
boombox
, into his shop so that his fellow employee at Duncan Auto Marine Electric could help him fix it for a friend, but he returned the radio after it did not work properly.
On 4 June, CSIS agents Larry Lowe and Lynn Macadams followed Parmar and a "youthful man"
[36]
(identified only as "Mr. X", "Third Man" or "Unknown Male") as they went from Parmar's house to the
Horseshoe Bay
Ferry Terminal, rode the Nanaimo-bound ferry, and visited Reyat at his home and shop at Auto Marine Electric. The three drove to a deserted bush area, where Reyat was observed taking an object into the woods. Staying out of sight, the agents, who did not bring a camera, only heard an explosion which sounded like a "loud gunshot".[
citation needed
] Later tests showed it could also have been an explosion, and later searches turned up remnants of an aluminium "electrical blasting cap".
[37]
J.S. Warren, director-general of counter-terrorism at CSIS, would later ask on 16 July 1986 why they did not ask the police to stop and question the suspects, or search the vehicle, which might have deterred the bombing plot.
[38]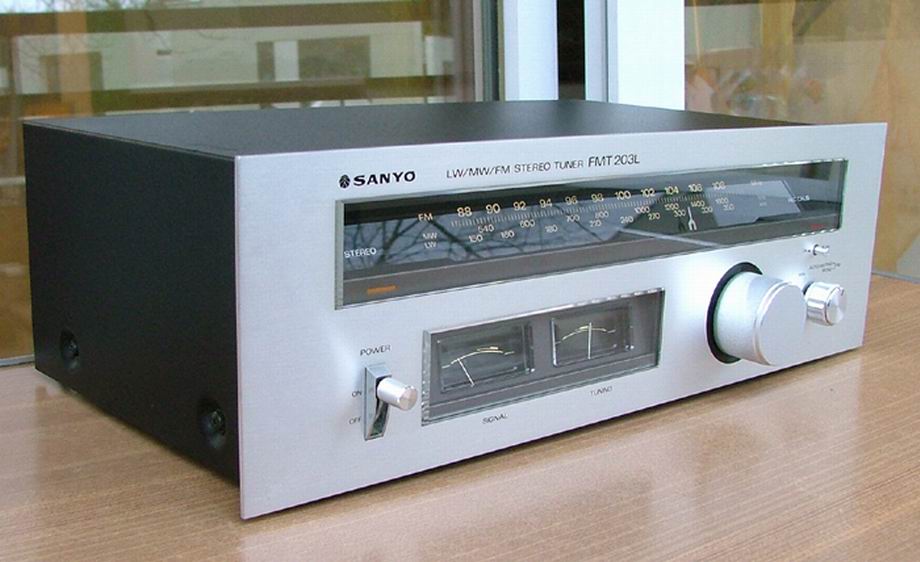 http://www.vintage-tuner.com/files4/sanyo.htm
The next day, Reyat purchased a large Sanyo component tuner, model FMT 611 K, at Woolworths, and left his name and telephone number on the charge slip, which was later found in a search of his home. Reyat also bought smokeless gunpowder from a sporting goods store, signing "I. Reyat" on the explosives log. Study of debris from the Narita explosion would eventually show the bomb had been housed inside a Sanyo tuner with a serial number matching a model sold only in British Columbia, and used a Micronta clock as a timer which powered a relay with an
Eveready
12-volt battery to trigger blasting caps to set off a high explosive consistent with sticks of dynamite,
[32]
all matching items purchased by Reyat. This would lead to his eventual conviction.
[32]
As late as 2010, Reyat admitted only to buying and assembling some parts, but denied he ever made a bomb, knew what the bomb was to be used for, who was behind any plot, or that he ever asked or knew the name of the man who he said stayed in his house for a week completing construction of the explosive device after his device failed.
[39]
On 9 June 1985, a police informer in Hamilton reported that Parmar and Bagri had visited the Malton Sikh Temple, warning the faithful that "it would be unsafe" to fly Air India.
[40]
Vancouver police also monitored militants 11 days before the bombing. A leader of the
International Sikh Youth Federation
complained that no Indian consuls or ambassadors had yet been killed, but the response was, "You will see. Something will be done in two weeks".
[41]
Reyat went to work on 21 June. Phone records show he called Johal at 7:17 pm. A witness whose name was protected testified that Bagri asked to borrow her car the night before the bombing to take some suitcases to the airport, though he himself would not be flying with them.
[48]
Bombings[
edit
]
On 22 June 1985, at 13:30 GMT, a man calling himself "Manjit Singh" (checked in as M. Singh) called to confirm his reservations on Air India Flight 181/182. He was told he was still wait-listed, and was offered alternative arrangements, which he declined. At 15:50 GMT (7:50 am), M. Singh checked into a busy line of 30 people for the CP flight from Vancouver to Toronto, which was scheduled to leave at 9:18 am. He asked agent Jeannie Adams to check his dark brown, hard-sided
Samsonite
suitcase, and have it transferred to Air India Flight 181 and then to Flight 182 to India. The agent initially refused his request to inter-line the baggage since his seat from Toronto to
Montreal
and from Montreal to
Bombay
was unconfirmed. He insisted, but the agent again rebuffed him, telling him, "Your ticket doesn't read that you're confirmed" and "we're not supposed to check your baggage through." The man said, "Wait, I'll get my brother for you." As he started to walk away, she relented and agreed to accept the bag, but told him he would have to check in again with Air India in Toronto. After the crash, Adams would realise this deception got the bag on its way to Flight 182. The anxious man was never identified.
[49]
[50]
At 16:18 GMT (9:18 am),
[51]
Canadian Pacific Air Lines Flight 60 to
Toronto Pearson International Airport
departed without Singh.
[52]
Reyat would later testify that he travelled by ferry from Duncan to Vancouver that morning to work on his brother's truck. Phone records show someone called from his residence in Duncan to Johal's number at 10:50 am and 4:00 pm later that day. Reyat was seen in the company of another East Indian man at the Auto Marine Electric store in
Burnaby
, near Parmar's house, between 10:00 am and 11:30 am. He bought two 12 volt batteries similar to the one used in the explosive device tested in the woods, and they were to fit into a special metal bracket he had brought with him.
[53]
Constable Clark-Marlowe later believed there was "ample time for Inderjit Singh Reyat to obtain the batteries at the Auto Marine Electric limited store in Burnaby, incorporate the batteries in the assembly of an explosive device and then have the device transported in a suitcase to the Vancouver airport".[
citation needed
]
Sometime before 20:22 GMT (1:22 pm), L. Singh (also never identified) checked in for the 1:37 CP Air Flight 003 to Tokyo with one piece of luggage, which was to be transferred to
Air India Flight 301
to Bangkok.
[54]
However, L. Singh did not board the flight.
[52]
At 20:22 GMT, Canadian Pacific Air Lines Flight 60 arrived in Toronto twelve minutes late. Some of the passengers and baggage, including the bag Singh had checked in, were transferred to Air India Flight 182. In response to threats from Sikh activists, Air India had requested extra security, leading Canada to assign extra policemen in terminals in Toronto and Montreal, and all baggage was to be checked by X-ray or by hand.
[55]
But after the x-ray machine broke down that day, inspectors used a portable PDD-4 explosive sniffer. An Air India security officer had demonstrated that it made a loud scream when a lit match was held an inch away, and showed that it should be used around the edge of the bag being tested. Between 5:15 and 6:00, the sniffer was heard to beep at a soft-sided maroon suitcase with a zipper going all around; it beeped in a low volume near the zipper lock. But Air India was not informed since checkers were not instructed on how to react to only a short beep, and they allowed the bag pass on its way. Later investigation would determine that the two containers that could have contained M. Singh's bag were placed close to the sensitive electronic bay of the aircraft.
[56]
[57]
At 07:14:01 GMT, the crew of the Boeing 747 "squawked 2005"
[62]
(a routine activation of its
aviation transponder
) as requested by
Shannon International Airport
Air Traffic Control (ATC), then disappeared. A bomb in a
Sanyo
tuner
[63]
in a suitcase in the forward cargo hold had exploded while the plane was at 31,000 feet (9,400 m) at
51°3.6′N 12°49′W
Coordinates
:
51°3.6′N 12°49′W
.
[64]
It caused
rapid decompression
and the break-up of the aircraft in mid-air. The wreckage settled in 6,700 feet (2,000 m) deep water off the south-west Irish coast, 120 miles (190 km) offshore of
County Cork
. No "
mayday
" call was received by Shannon ATC. ATC asked aircraft in the area to try to contact Air India, to no avail. By 07:30:00 GMT, ATC had declared an emergency and requested nearby cargo ships and the
Irish Naval Service
vessel
LÉAisling
to look out for the aircraft.
A
commemorative plaque
presented to the citizens of
Bantry
, Ireland by the
government of Canada
for the residents' kindness and compassion to the families of the victims of Air India Flight 182.
The second bag, checked in by L. Singh, went on Canadian Pacific Air Lines Flight 003 from
Vancouver
to
Tokyo
. There were no x-ray inspections of luggage on this flight.
[56]
Its target was
Air India Flight 301
, due to leave with 177 passengers and crew bound for
Bangkok-Don Mueang
, but 55 minutes before the Flight 182 bombing, it
exploded
at the terminal in
Narita Airport
. Two Japanese baggage handlers were killed and four other people were injured. It appears the conspirators meant for both bombings to occur simultaneously but they neglected to take into account that Japan does not observe
Daylight saving time
as does Canada.
[65]
1985 Narita International Airport bombing
From Wikipedia, the free encyclopedia
Narita International Airport, Terminal 1. The main site where the bombings happened.
At 07:13 on Sunday, June 23, 1985 an explosion at Tokyo
Narita International Airport
killed two
baggage handlers
, and injured four. The bomb was intended for Air India Flight 301, with 177 passengers and crew on board, bound for
Don Mueang International Airport
.
The bombing is believed to have been planned by the same conspirators who brought down
Air India Flight 182
by a bomb that went off nearly an hour later, when the plane was off the west coast of Ireland.
Sikh
extremists living in Canada are believed to be responsible for both bombings, but only
Inderjit Singh Reyat
, who lived in
Duncan, British Columbia
, was convicted in Canadian court. He was found guilty in 1991 in the Narita bombing. In 2003, shortly before the start of the Air India trial, he made a plea bargain on reduced charges and a promise of testimony against other suspects. He made the bombs used in both incidents.
Contents [
hide
]
1 Timeline of the Incident
2 Second bombing
3 Trials
4 References
5 External links
Timeline of the Incident[
edit
]
On June 22, 1985, the bags of a passenger named M. Singh were checked in at
Vancouver
for
Canadian Pacific Airlines
(CP Air) 003 to New Tokyo International Airport in
Narita, Japan
, near Tokyo. This bag was interlined to Air India Flight 301 leaving for
Don Muang International Airport
in
Bangkok
, Thailand. M. Singh was assigned seat 38H.
At 2037 GMT, CP Air Flight 003 (named Empress of Australia), departed Vancouver; no M. Singh was on board.
At 0541 GMT (now June 23), CP Air 003 arrived in Tokyo Narita 14 minutes early.
At 0619 GMT, a piece of luggage that had come from CP Air 3 exploded as it was being transferred to Air India Flight 301; the explosion killed two Japanese baggage handlers (Hideo Asano and Hideharu Koda) in Narita Airport and injured four other people.
At 0714 GMT,
Air India Flight 182
exploded in mid-air off the west coast of Ireland, falling into the sea. All 329 people on board were killed. Investigation by Canada has revealed connections between the two bombings.
At 0805 GMT, Air India Flight 301 left Narita and arrived in Thailand unscathed and with no incidents.
February 1988 – Inderjit Singh Reyat is arrested by
West Midlands Police
in
Coventry
, United Kingdom.
December 8, 1989 – The British government agrees to extradite Reyat to Canada, following a lengthy court battle and trial.
May 10, 1991 – Inderjit Singh Reyat receives a ten-year sentence after being convicted of two counts of manslaughter terms and four explosives charges relating to the Narita Airport 1985 bombing.
Second bombing[
edit
]
Fifty-five minutes after, at 08:14
Irish time
,
Air India Flight 182
exploded mid-air and plunged into the Atlantic Ocean off the west coast of Ireland, killing 329 people. Canadian security forces believe that the incidents were related, as noted in a 2010 report by a government commission. They were both developed by
Babbar Khalsa
, the
Sikh
separatist group operating in Canada. They think the bombings were intended to be simultaneous, but the terrorist planners were not aware that, while Canada observes
daylight saving time
, Japan does not.
Trials[
edit
]
The trial for the Narita bombing took place in Canada in 1991. The only man convicted of any involvement in the bombings was
Inderjit Singh Reyat
, a British Columbia resident who had built the bombs used. He received a ten-year sentence of two counts of manslaughter and four explosives charges after being found guilty in May 1991 of the Narita bombing in federal court in
Vancouver, British Columbia
.
In 2003, weeks before the start of the Air India Flight 182 trial, Reyat cut a deal with prosecutors. In exchange for pleading guilty to the charge of manslaughter in the Flight 182 bombing, he was sentenced to five years in prison. He also had to testify against the two other men tried in Canada for these incidents, Ripudaman Singh Malik and Ajaib Singh Bagri. Justice Ian Josephson acquitted them, as he believed that the prosecutors had not been able to meet the standard of proof "beyond a reasonable doubt."
In reading the verdicts of Malik and Bagri, Justice Josephson commented about Reyat's testimony at their trial:
Even the most sympathetic of listeners could only conclude, as do I, that his evidence was patently and pathetically fabricated in an attempt to minimize his involvement in his crime to an extreme degree, while refusing to reveal relevant information he clearly possesses. His hollow expression of remorse for his crime must have been a bitter pill for the families of the victims.
In 2006 Crown Counsel in British Columbia announced they would be charging Reyat with
perjury
, based on his testimony at the Air India Flight 182 trial. It is alleged that he committed perjury 27 times during his testimony. In 2008, the court granted bail; he had already served 20 years in jail since his first arrest. The trial on perjury charges was scheduled for 2009.
[1]
He was convicted of perjury in 2011 and sentenced to nine years, with seventeen months' credit for time already served.
[2]
*Updates
Jan 26, 2016 .
Inderjit
Singh
Reyat paroled to halfway house
Now, after serving three prison terms, a remorseless Reyat is to be released to a halfway house under strict conditions... The only person convicted in the 1985 Air India bombings has been granted statutory release from prison to a halfway house, prompting shock and disappointment from the families of the victims... Ripudaman Singh Malik of Vancouver and Ajaib Singh Bagri of Kamloops, B.C., were acquitted in March 2005 of murder and conspiracy charges in the two bombings connected with state-owned Air India... [charged] seeking revenge for the Indian government's 1984 raid of the Golden Temple as it tried to flush out armed militants from Sikhism's holiest shrine in Amritsar. comments: papagallo @Singh 'the Air India bombing was in response to Indian government mass killings of Sikhs in 1984' Do you fail to see that the bombing terrorists killed mostly their own kindred, Sikhs? And the murdered ones are mostly from their own community in BC? The Indian government committed some atrocities against the Sikhs occupying the Golden Temple and their supporters. So, in retaliation, the Sikh terrorists murder their own, to spite the Indian government? This reasoning may makes sense to you, but I am completely nonplussed.
Air India bombers still torment their victims, all these years later
Air India Kanishka bombing convict to be freed soon
IANS India Private Limited/Yahoo India News via Yahoo! India News
Jan 27, 2016
Inderjit Singh Reyat, Air India bomb-maker, gets out 30 years later
His bombs killed 331 people. But still no remorse. By Terry Milewski, CBC News Inderjit Singh Reyat, seen in 2010, still supports political-based violence, the parole board said, and has only recently shown "partial" acceptance of responsibility in connection with the the Air India bombings of 1985. ... Once again, the bomb-maker is getting out and, once again, he is keeping his mouth shut, offering just enough tactical repentance to ensure his release — and no more.... Inderjit Singh Reyat, convicted three times but still the only man convicted at all in Canada's worst-ever mass murder. Until Sept. 11, the bombing of Air India on June 23, 1985, was the deadliest terrorist attack anywhere, ever. ...A mechanic from Punjab, living on Vancouver Island, Reyat bought the dynamite, the detonators and the batteries that took the lives of 329 passengers on Air India's Flight 182, which left from Toronto, stopped in Montreal and exploded over the coast of Ireland on its way to Heathrow Airport in London. ... Both bombs originated in Vancouver. The passengers who checked them in never boarded. The plan was to produce two spectacular massacres, one on each side of the globe. In total, 331 innocents died that day. Most were Canadians. Dozens were children. Whole families were wiped out.... Reyat, a member of an extremist group fighting for a Sikh homeland, was first convicted for building the Narita bomb. Then, at the Air India trial in Vancouver, he was jointly accused with two other Sikh fundamentalists for mass murder on Flight 182. Reyat refused to tell what he knew, but cut a deal and pleaded guilty to manslaughter. The other two, Ripudaman Singh Malik and Ajaib Singh Bagri, were acquitted... Reyat knows who else was involved, but refuses to give them up and that's why they have not paid for their crimes
Air India bomber released from Canadian prison
AFP via Yahoo! News The only person ever convicted over the 1985 Air India bombings that killed 331 people was released from a Canadian prison on Wednesday after serving two decades behind bars. Inderjit Singh Reyat, a...
Perpetrator of 1985 Air India Bombings, Which Killed 331, Freed From Jail
Time Magazine