Suicide Crash Attacks By and On Pilots and Drivers
---
===
or
possible driver fault
*Reference
*Aircraft
List of declared or suspected pilot suicides
[
edit
]
This list excludes
World War II
suicide attacks on ground targets (see section above).

By pilots in control of whole flight
[
edit
]
Crash date
Perpetrator
Flight Type
Flight
Fatalities
Theories
Aircraft
Refs

September 26, 1976

Pilot
General aviation
Aeroflot
12
(pilot, 11 on the ground)
The pilot flew an Antonov An-2from Novosibirsk-Severny Airportand crashed the aircraft into an apartment complex where his ex-wife lived. His ex-wife was not killed in the crash.
[12]

January 5, 1977

Pilot
General aviation
Connellan air disaster
5
(pilot, 4 on the ground)
A disgruntled former employee ofConnellan Airways (Connair) flew a Beechcraft Baron into the Connair complex at the Alice Springs Airport, Northern Territory, Australia
[13]

August 22, 1979

Pilot
General aviation
Stolen aircraft
4
(pilot, 3 on the ground)
A 23-year-old aircraft mechanic working at Bogota El Dorado Airport stole a Hawker-Siddeley HS-748 and crashed it into a Bogota suburb.
[14]

February 9, 1982

Pilot

Commercial flight

Japan Airlines Flight 350
24
Pilot engaged number 2 and 3engines' thrust-reversers in flight. The first officer and flight engineer were able to partially regain control.
[15]

September 15, 1982

Pilot
General aviation
Bankstown Airport incident
1
The pilot of a light aircraft committed suicide by deliberately crashing into airport in the City of Bankstown, New South Wales,Australia
[16]

July 13, 1994

Pilot
Military
Stolen aircraft
1
A Russian air force engineer stole the airplane at Kubinka air base outside of Moscow. He circled the aircraft until it ran out of fuel and crashed.
[17]

August 21, 1994

Pilot
Commercial flight
Royal Air Maroc Flight 630
44
Crashed intentionally by pilot (disputed by flight union)
[18]
[19]

September 12, 1994

Pilot
General aviation
Stolen aircraft
1
Crashed intentionally by Frank Eugene Corder on the White House south lawn.
[20]

April 2, 1997

Pilot
Military
Craig D. Buttonincident
1
While on a training mission, Button flew off course and ceased radio contact. The jet crashed into a mountain in Colorado.

December 19, 1997

Pilot
Commercial flight
SilkAir Flight 185
104
Crashed intentionally by pilot (disputed by Indonesian government)
[21]

October 11, 1999

Pilot
Stolen commercial aircraft
1999 Air Botswana incident
1
Pilot commandeered and then crashed an Air Botswana aircraft into a group of aircraft at Sir Seretse Khama International Airport in Gaborone, Botswana
[22]

October 31, 1999

First officer
Commercial flight
EgyptAir Flight 990
217
After the captain left the cockpit, first officer crashed aircraft into ocean while repeatedly saying "I rely on God" in Arabic[23]
[24] (U.S. National Transportation Safety Board); mechanical failure (Egyptian air agency)
[25]


January 5, 2002

Pilot
General aviation
2002 Tampa airplane crash
1
(pilot, damaged an office)
Crashed into Bank of America Plaza. Teen Charles J. Bishop credited and praised Osama bin Laden for September 11, 2001 attacks in suicide note
[27]

April 18, 2002

Pilot
General aviation
2002 Pirelli Tower airplane crash
3
(pilot, 2 inside the building)
The aircraft crashed in the tower in Milan. Suicide is a possibility.
[28]

February 18, 2010

Pilot
General aviation
2010 Austin suicide attack
2
Andrew Joseph Stack III deliberately crashed his single-engine Piper Dakota light aircraftinto Building I of the Echelon office complex in Austin, Texas, United States.
[29]

November 29, 2013

Pilot
Commercial flight
LAM Mozambique Airlines Flight 470
33
Likely: The pilot intentionally crashed jet; the co-pilot was locked out of the cockpit, according to the voice recorder.
[18]

March 8, 2014

Commercial flight
Malaysia Airlines Flight 370
239
Pilot suicide is a possibility(wreckage and black boxes not yet found)
[30]
[31]

March 24, 2015

Co-pilot
Commercial flight
Germanwings Flight 9525
150
Proven: The co-pilot locked the captain out of cockpit before deliberately crashing the plane into a mountain near Prads-Haute-Bléone, Alpes-de-Haute-Provence, France.
[32]
Crash date
Murderer
Flight Type
Flight
Fatalities
Theories
Aircraft
Refs

February 22, 1974

Hijacker
Commercial flight
Delta Airlines Flight 523
3
(hijacker, co-pilot, police officer)
Samuel Byck intended to crash into theWhite House in the hope of killing U.S. President Richard Nixon. He killed several people, hijacked the aircraft, but the aircraft never left the gate.
[33]

December 7, 1987

Hijacker
Commercial flight
Pacific Southwest Airlines flight 1771
43
(all, including 4 or 5 shot before impact)
Hijacked by one of the passengers, a disgruntled former employee of USAir, who shot the crew and two other people to death before crashing the plane near Cayucos, California, United States.
[34]

April 7, 1994

Hijacker
Commercial flight
Federal Express Flight 705
0
Hijacked by a deadheading Federal Express employee facing possible dismissal
[35]

December 24, 1994

Hijackers
Commercial flight
Air France Flight 8969
7
(all 4 hijackers, 3 passengers)
After having killed three passengers, the hijackers had the intention to blow up the aircraft over the Eiffel Tower in Paris. When the aircraft reached Marseille a counterterror unit of the French National Gendarmerie(GIGN) killed all four hijackers.
[36]

September 11, 2001

Hijackers
Commercial flight
American Airlines Flight 11
1692
(87 passengers and crew, 5 hijackers, about 1600 on the ground)
Plane hijacked and crashed into the North Tower of the World Trade Center by hijackers as part of the September 11, 2001 attacks.
[37]

September 11, 2001

Hijackers
Commercial flight
United Airlines Flight 175
965
(60 passengers and crew, 5 hijackers, about 900 on the ground)
Aircraft hijacked and crashed into the South Tower of the World Trade Center by hijackers as part of the September 11, 2001 attacks.
[37]

September 11, 2001

Hijackers
Commercial flight
American Airlines Flight 77
187
(57 passengers and crew, 5 hijackers, 125 on the ground)
Aircraft hijacked and crashed into the Pentagon by hijackers as part of the September 11, 2001 attacks.
[37]

September 11, 2001

Hijackers
Commercial flight
United Airlines Flight 93
44
(40 passengers and crew, 4 hijackers)
Aircraft hijacked as part of the September 11, 2001 attacks.
Passengers revolted against the hijackers, and the plane crashed in Stonycreek Township, Pennsylvania. Although the plane crashed with the death of all aboard, the passengers prevented the hijackers from reaching their target for another attack (thought to be the White House or theCapitol Building).
[37]
*Other possible flights not noted:
Year 2016
Feras M. Freitekh Dies In Suspected Intentional Plane Crash Near CT Defense Jet Engine Factory
Oct 12, 2016 Got into a struggle with instructor who thinks the student was trying to crash the plane.
1 suspect killed terrorism and suicide suspected, ruled out
August 12, 2016
Canadian not-Terrorist Mohammad Hassan Chaudhary Steals and Crashes Plane Into Mall
Canadian 20-year-old Markham man Mohammad Hassan Chaudhary with mental health issues "acting alone," managed to sneak into Toronto Markham Airport, steal a Piper PA-38-112 Tomahawk small plane undetected, fly it and crashed it just before 3 a.m. in what appeared to be an "emergency landing" near the Landsdowne Place mall apparently halfway on a journey to the national capital in Ottawa.
Pilot error:
TransAsia Pilots Apparently Shut Off Wrong Engine After Idle Warning - ABC ...
ABC News Feb 6, 2015 TransAsia Crash Plane 'Lost Engine Power' ... The data, however, showed it had not shut down, or "flamed out," as the pilot told the ... One of the engines on TransAsia Airways Flight 235 went idle soon after takeoff, and the pilots apparently shut off the other engine before the plane crashed, according to Taiwan's top aviation official. Within a minute of takeoff, the plane's right engine triggered an alarm, went into idle mode After that, the pilot apparently shut down the left engine, the only engine producing power, a maneuver that Wang said officials are continuing to investigate.
20 January 2015
AirAsia QZ8501: pilots 'turned off critical computer system ...
The Week pilots had sought permission to climb from 32,000ft to 38,000ft because of stormclouds. Air traffic control gave them permission to climb to 34,000ft, but the plane ...The two flights vanished within nine months of one another, with no final ..
Wikipedia
On 20 January 2015, it was reported that the aircraft had stalled during an abnormally steep climb and had been unable to recover.
​Frozen instruments, deliberate crash? AirAsia plane crash ...
RT Dec 31, 2014 - Possible explanations range from misread instruments leading to a stall to a murder-suicide.
4 killed October 30, 2014
Engine failure crash at Wichita kills 3 in ground simulator.
The Wichita Eagle Oct 30, 2014 - The crash of a Beechcraft King Air B200 shortly before 10 a.m. killedfour people ... "The next thing I knew, it hit the top of the roof of FlightSafety," Metz said. ..... "The pilot did report that he had a left engine problem, so we're very interested in ... Three of the bodies were found in one flight simulator inside the ... reported losing the left engine shortly after takeoff [no problem was found with engines]
4 dead, 5 injured as small plane crashes into Kansas building
Los Angeles Times Oct 30, 2014 - A twin-engine plane crashed into a building shortly after takeoff from ...Flight Safety Building, which houses flight simulators and serves as a training facility for pilots. ... Three people inside the building died and a fourth body was found
accidents 2014
*Bus, Truck Ground Vehicles - see
Deliberate Accidents
(deliberate crash not ruled out) 10 injured in crash
February 9, 2015
Public bus drive possible medical issue, overturns into Alabama ravine
NEW YORK DAILY NEWS Published: Monday, February 9, 2015 A Max public bus has overturned in a Fairfield, Ala., ravine, and passengers are being rescued by firefighters. Some passengers suggested that he may have suffered a seizure just before the vehicle veered off Martin Luther King Drive
3 killed 9 injured October 27, 2015
Police suspect deliberate action Finlabnd mother 3 children ram father's bus fatal crash
Police say they now strongly suspect that the woman who died in a tragic road accident Sunday evening may have acted deliberately. The woman and three children were killed, theory that the woman who drove the car head-on into a bus may have done so deliberately. strongly suggest that the act was deliberate. Driving conditions did not play a role," The woman apparently knew that her husband was on board the bus, The car was said to be in the oncoming lane at the time of the accident. Nine of the people on board the bus reportedly sustained non-life threatening injuries. The accident claimed the lives of the 33-year old woman as well as her three children aged 1, 2 and 6. The two youngest were reportedly the children of the man said to be on the bus.
6 killed 7 injured December 22, 2015
Glasgow killer garbage truck crash accident or attack?
UK The Star Six people were killed and several others injured when a garbage truck crashed into a group of pedestrians in downtown Glasgow Scotland... hit a number of pedestrians as it veered "out of control". "does not look to be a criminal or deliberate act" that has taken place here this afternoon, but we need to have time to investigate it," Onlookers suggested the driver became ill and lost control of the vehicle, but officials did not confirm this. (Not confirmed, not ruled out)
No charges for unidentified driver of killer garbage truck
Fox News Channel Feb 25, 2015 - Scottish prosecutors say they will not charge the driver of a garbage truck... "despite its catastrophic consequences there is no evidence to suggest that the driver's conduct at the time amounted to a breach of the criminal law."
UK JIHAD COVER UP: Glasgow Garbage Truck Incident Possible Jihad Attack?
Shoebat Foundation on January 6, 2015 we can take an informed guess as "car Jihad" incidents were happening around the same time all across Europe... name withheld... driver appears to be seated in a normal, upright posture...not slumped...so-called reports from witness accounts have popped up online (disinformation operation) and even passed as fact.. detractive comments are that the driver had either a heart attack or seizure...how he was able to steer around the corner into Queen Street and keep a straight line down the pavement over such a long distance without smashing into shop... names of the driver and two other men in the lorry have been put on a D-notice ,a D notice restricts reporting ,issued by the uk secatary of state for defence in the interest of " national security! not normanally applied to three low paid menial garbage collectors after a simple road accident ?????? Sounds like the witness accounts might be similar to the, "hands up, don't shoot" fairy tales.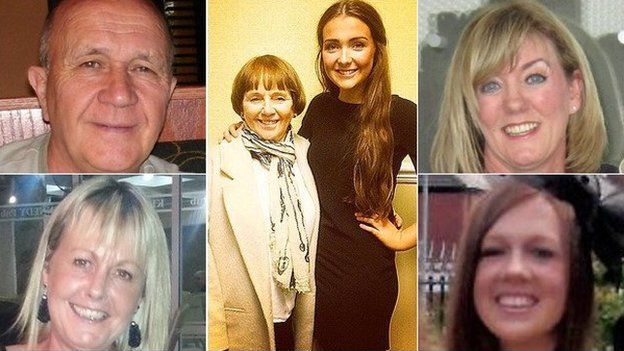 2014 Glasgow bin lorry crash - Wikipedia
On 22 December 2014, at around 14:30 GMT, a bin lorry (a recycling truck) collided with pedestrians in Queen Street, Glasgow. The lorry came to rest part way ...
October 2010-January 2012
Audi deliberately crashed into side of bus as part of UK fraud conspiracy
Daily Mail Apr 1, 2015 - These dramatic images show the moment an Audi pulled out of a road and deliberately crashed into the side of a bus as part of a £1million ...Moment Audi deliberately crashed into side of bus as part of £1million no win no fee scam which led to hundreds of fake whiplash claims 'Crash for cash' fraud involved cars being deliberately driven into buses Convicted yesterday of fraud and conspiracy to commit fraud after trial The crashes took place between October 2010 and January 2012 and earned ringleader John Smith 45, from Connah's Quay, North Wales, £159,000.. a car would collide with the side of a bus, causing both minimal impact and damage... driver of the car would admit full liability, allowing all of the passengers from the bus to submit personal injury claims.
6 July 1989
Tel Aviv–Jerusalem bus 405 suicide attack (July 6) - Wikipedia
(confirmed intentional terrorist attack) Tel Aviv–Jerusalem bus 405 attack was a suicide attack on 6 July 1989 carried out by Abed al-Hadi Ghaneim of the Palestinian Islamic Jihad.[1] On a crowded Egged commuter bus line No. 405 en route from Tel-Aviv to Jerusalem (Israel), Ghanim seized the steering wheel of the bus, running it off a steep cliff into a ravine in the area of Qiryat Ye'arim. 16 civilians died in the attack—including two Canadians and one American, and 27 were wounded. The incident is described as the first Palestinian suicide attack despite the fact that the attacker survived. perpetrator was a 25-year-old Palestinian Islamic Jihad militant named Abd al-Hadi Rafa Ghanim who originated from the Nusseirat refugee camp in the Gaza Strip. Ghanim was convicted and given 16 life sentences for murder, hijacking and terrorism. On 18 October 2011, Ghanim was released to Gaza as part of the Gilad Shalit prisoner exchange between Israel and Hamas.
27 killed
Florida Highway Patrol says fatal Bus Crash Turn was Deliberate
May 23, 1963
St. Petersburg Times Belle Glade bus crash that killed 27 was triggered when a truck
driver apparently deliberately cut into the bus the florida Highway Patrol said yesterday
*Deliberate Railway Crashes
Criminal investigations
DidAmtrak Engineer Deliberately Crash Train?
May 15, 2015 The Amtrak engineer who is under investigation in Tuesday night's train crash that killed 8, ranted online for improvements in rail safety, the LAtimes.com reports. In the hours after the crash, Bostian told investigators he did not recall the crash, then he lawyered up and refused to speak to investigators. activist also campaigned against California's Prop 8 that banned the rights of gays to get married. He was very vocal about his support of gay marriage and actively sought out media attention. Twitter.com users reacted angrily to Bostian's lifestyle. Some observers believe Bostian deliberately crashed the train in a narcissistic bid to bring attention to the need for rail safety improvement.
1 killed May 10, 2015
Louisiana Tow Truck Driver Killed by Amtrak Train at Dangerous,
Unguarded and Humped Canadian National Crossing Amite, Louisiana 35-year-old Louisiana flatbed tow truck driver briefly got his vehicle hung up on a dangerous, unguarded and elevated Canadian National railroad crossing in Amite, LA Sunday afternoon at about 1:35 P.M., CDT, and died when his vehicle was struck by an Amtrak streamliner, one of a dozen trains that pass through Amite daily at a top allowable speed of 79 mph. fifth accident to occur at the Pope Lane It is virtually certain that if equipped with lights and gates this accident would not have happened.(why was truck accidentally stopped in path of train?)
1 killed March 29, 2015
Van drives into side of passing train in Butler County
Mar 30, 2015 KAKE New deadly collision between a van and train Sunday at 1:09 a.m. Sheriff Kelly Herzet said the Toyota Minivan ran into the side of a northbound freight train at a marked crossing. The train crew was not aware of the collision. A southbound train spotted the burning van thirty minutes later and called 911.
3 killed June 22, 2014 crash Two Amtrak trains hit vehicles driving on tracks, one killing 3 near Boston June 23, 2014 AP Amtrak train hit a vehicle that was apparently driving on train tracks in Massachusetts, killing three people in the vehicle and derailing the train. Crash also disrupted train service along the busy Northeast corridor. crash just before midnight in a remote area southwest of Boston No injuries on train SUV or a truck, was headed north on the tracks toward Boston. Train speed limit in the crash area is 125 mph. Another train struck a wood chipper being towed by a truck in Connecticut Monday morning, injuring five people.
Conductor hailed as hero warning passengers after train collides with truck in Berlin
WTNH Amtrak train #490, the New Haven-Springfield shuttle, hit a truck pulling a wood chipper.the truck was on the tracks when the train came through," driver of the truck – the other individuals, the workers of the truck, fled prior to the train — he was still trying to move that truck off of the tracks when the accident happened."engineer was able to apply the brakes and run into the train to warn passengers by evacuating the first coach. "The engineer saw what was going to happen, apparently raced through the two cars, inform people to be ready and moved everyone to the second car
Masslive
Three people were killed late Sunday when an Amtrak train struck a car at a crossing in Mansfield, Mass. truck, registered to a company called Trees Incorporated, was involved in tree clearing around the tracks. A worker tried to move the truck as they saw the train approaching but was unable to move it in time to avoid the crash, caused the locomotive to train to derail,
2 killed including child, apparent suicide
Fatal crash Canada car parked on tracks with train was likely deliberate
QMI Agency
June 2, 2014
A car collided with a Via Rail train east of Montreal on June 2, 2014 SAINT-LIBOIRE, Quebec Authorities believe that a car was purposely stopped on rail tracks at crossing before it was hit by a train, killing both occupants of the vehicle. A man in his 40s and a young child were killed collision occurred Monday morning.
Canada Via train crash into SUV parked on tracks kills father and son, may have been deliberate
Thierry Patenaude-Turcotte, 42, and Nicolas Patenaude, 21 months, killed in collision with passenger train CBC News Jun 02, 2014 The Quebec provincial police homicide squad is investigating the crash of a train and an SUV this morning east of Montreal that killed Thierry Patenaude-Turcotte, 42, and 21-month-old Nicolas Patenaude. 'It is possible that this was a voluntary act.' — Sgt. Joyce Kemp, Sûreté du Québec. SUV had passed a number of vehicles using the shoulder of the road before stopping on the tracks. "So far, the investigation that has been done at the scene and the meetings that the investigators have had with several people lead us to believe that it is possible that this was a voluntary act," said Sgt. Joyce Kemp of the Sûreté du Québec. This afternoon, police spokesman Sgt. Claude Denis told CBC News that the vehicle was parked on the tracks at the time of the crash, but he later said he could not confirm that detail
13 killed 6 injured February 4, 2014
Ukraine bus ignores signals and
drives into path of
train
"The shuttle bus ignored the traffic lights and the sound signals and headed to the crossing. The train ripped it in two and dragged it for a long distance,
2014 Ukraine train bus collision
the bus driver survived.
Canada train crash: authorities open criminal investigation.
Telegraph UK Jul 09, 2013 · Canadian authorities have opened a criminal investigation into a deadly oil train derailment that killed at least 15 people over the weekend. How / who started the fire in the engine that started the whole thing?
April 26, 2013 crash
Driver Sentenced In Deadly Butler Co. Bus-Train Crash
March 13, 2014
Sentencing
,
Train Crash
BUTLER (KDKA) – A judge sentenced a bus driver today in connection with a deadly crash involving a freight train in Butler County. Frank Schaffner was given house arrest and community service for his role in the accident in in Evans City in April 26, 2013 Schaffner, 60, of Butler Township, pled guilty to two counts of involuntary manslaughter and eight counts of reckless endangerment over what happened at a railroad crossing in Evans City. On April 26, Schaffner was driving a 12-seat bus for Butler Area Rural Transit; he did not stop at the railroad crossing and a freight train hit the bus, killing 2 injuring 8 the passengers yelled to him that the train was coming, but says a radio was on, and when he heard him, it was too late.
Evans City police charge bus driver with homicide in deadly ...
Pittsburgh Tribune‑ReviewMay 9, 2013 - Evans City police Chief Joseph McCombs charged Frank Schaffner, 59, of Butler Township with multiple counts of involuntary manslaughter, ...
1 killed 11 injured Train enters curve at twice legal speed like Philadelphia Amtrak: 28 June 2010 –
Czech Republic
– A
CityElefant
passenger train from
Prague
to
Ústí nad Labem
derails
while entering the
Ústí nad Labem
station, killing the driver and injuring 11 passengers. The cause of the derailment is unknown; the train's 108 km/h (67 mph) speed exceeded the local 50 km/h (31 mph) speed limit and may have been a factor.
[36]
11 killed 177 injured ruled intentional but not terrorism
2005 Glendale train crash - Wikipedia
The 2005 Glendale train crash is the second-deadliest incident in the history of Metrolink The root cause of the accident was attributed to the driver of the automobile, Juan Manuel Álvarez of Compton, California, who deliberately drove and left his vehicle onto the tracks. After he left his Jeep Cherokee Sport vehicle parked on the tracks, he was arrested and charged with 11 counts of murder with "special circumstances." Authorities and Álvarez's legal defense claimed Álvarez was
planning to commit suicide
, but changed his mind at the last minute. Álvarez was convicted in June 2008 of the eleven counts plus one count of arson, and though prosecutors sought a death sentence, was sentenced in August 2008 to 11 consecutive life sentences in prison with no possibility of parole. The next day, police intervened in a similar "copycat" incident in Irvine, California where a suicidal man parked his car on Metrolink tracks. The man drove away from the tracks when police arrived and was later arrested. The root cause of the accident was attributed to the driver of the automobile,
Juan Manuel Álvarez
of
Compton, California
, who deliberately drove and left his vehicle onto the tracks while allegedly attempting to commit suicide. Having
slashed his wrists and stabbed himself repeatedly in the chest
, he parked his car on the tracks to finish the attempt. However, Álvarez changed his mind and attempted to leave the railroad tracks. Because he was unable to dislodge his vehicle from the rain-soaked gravel and slick rails, he abandoned the vehicle moments before the crowded southbound train approached. However, there has been some speculation that Álvarez may have inflicted the wounds on himself after the crash, based on some early reports by witnesses. Both this causation and the end result have many similarities to that of the
Ufton Nervet rail crash
in the
United Kingdom
, which occurred only three months previously, although in that case the driver of the car stayed in the vehicle and was killed. Early rumors of the incident being a
terrorist attack
were dismissed, as no connections to any
terrorist organization
existed with the suspect.
7 killed 6 November 2004 suicidal car driver
Ufton Nervet rail crash
was a collision between a train and car near
Ufton Nervet
,
Berkshire
, England in 2004. Seven people, including the drivers of the train and the car, were killed. at 18:12 GMT, the First Great Western 17:35 service from London Paddington to Plymouth, an InterCity 125 (HST) led by a Class 43 power car (43019) collided with a stationary car at an automatic level crossing close to the rural West Berkshire village of Ufton Nervet. The inquest concluded that the crash was caused by Brian Drysdale, a chef at the nearby Wokefield Park Hotel, committing suicide by parking his car on the crossing. similar:
2005 Glendale train crash
crash in January 2005 on the Los Angeles commuter rail system in similar circumstances.
7 killed August 11, 2004
Suicide cause for 2004 UK train hits car stopped at crossing completely derailed crash
The high-speed train crash that killed seven and injured scores of passengers may have been as a result of the car driver's attempt to commit suicide.... 300 passengers... completely derailed,, hit a car at a level crossing ...car had been stopped at the crossing prior to the crash and in an interview for BBC Radio said that the action may have been deliberate.. or mechanical failure could not be ruled out,,, Six people, including the train driver and the car driver, are known to have died at the scene, a seventh died later in hospital... Four of the 18 people in hospital following the incident are said to be in a "serious" condition...reports that the driver of the vehicle had informed the off-duty police officer that he wanted to die have subsequently been denied.
10 killed 82 injured 28 February 2001
Great Heck rail crash
, Ruled accident due to sleep deprivation, driver claimed mechanical fault or collision caused loss of control, sentenced 5 years of causing death by dangerous driving. High-speed
train
accident that occurred at
Great Heck
near
Selby
,
North Yorkshire
, England on the morning of 28 February 2001. Ten people died, including the drivers of both trains involved, and 82 people suffered serious injuries. It remains the worst rail disaster in the 21st century in the United Kingdom.
Land Rover Defender
towing a loaded trailer (carrying a
Renault Savanna
estate car) swerved off the
M62 motorway
just before a bridge over the
East Coast Main Line
. The vehicle ran down an embankment and onto the southbound railway track. The Land Rover's driver, Gary Neil Hart, tried to reverse it off the track, but he could not. While he was using a mobile telephone to call the emergency services after exiting the vehicle, the Land Rover was hit by a southbound train .Hart escaped the collision unscathed. He claimed that his car had suffered a mechanical fault, or had collided with an object on the road. An investigation, including reconstruction of the Land Rover to demonstrate that it was not mechanically defective, concluded that Hart had been driving in a
sleep-deprived
condition, and had not applied the brakes as it went down the embankment. It later transpired that Hart had stayed up the previous night talking on the telephone to a woman he had met via an
Internet dating
agency.
[5]
Hart was tried on ten counts of
causing death by dangerous driving
. On 13 December 2001 he was found guilty, and sentenced to five years' imprisonment.
7 killed ruled accident:
1995 Fox River Grove bus–train collision
was a
grade crossing
accident that killed seven students riding aboard a
school bus
in
Fox River Grove
,
Illinois
, on the morning of October 25, 1995. The school bus, driven by a substitute driver, was stopped at a traffic light with the rearmost portion extending onto a portion of the railroad tracks when it was struck by a
Metra
commuter train en route to Chicago.
[1]
*Timeline
One unlikely but possible explanation:
Valhalla train crash
On the evening of February 3, 2015, a
commuter train
on
Metro-North Railroad
's
Harlem Line
struck a passenger car at a
grade crossing
near
Valhalla, New York
, United States, between the
Valhalla
and
Mount Pleasant
stations, killing six people and injuring fifteen others, including seven in "very serious condition".
[1]
[2]