UK Paddington train derailment blamed on Ramadan fasting
---
===
June 16, 2016
UK Paddington train derailment blamed on Ramadan fasting
A train derailed at London's Paddington rail station after it triggered an automatic derailing signal after it ran past a red light. The driver said he saw the stop light but thought it did not apply to his train, and he told authorities that he had had not eaten for 16 hours for the Muslim Ramadan observance Counterjihad pundits suspected a deliberate crash motive. The crashed damaged overhead power lines and cancelled service for days.
Tags: suspected deliberate crash, muslim suspect, cover story (fasting), suspected sabotage
London Paddington station - Wikipedia, the free encyclopedia
https://en.wikipedia.org/wiki/London_Paddington_station
On 16 June 2016,
Class 165
diesel multiple unit
165 124 was derailed near the station, causing significant disruption to services.
[23
Train derails at Paddington: Services disrupted in and out of station d the empty train had passed a red signal outside the station, activating an automatic derailment on Thursday. Overhead power lines also came down.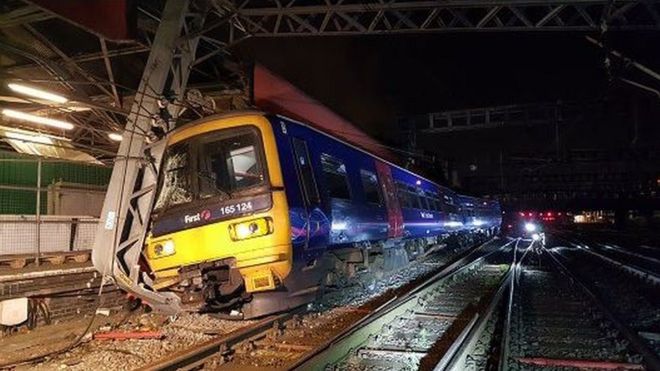 Paddington station train derailment 'may have been due to Ramadan ...
www.standard.co.uk › News › Transport
London Evening StandardAug 18, 2016 - Rail safety chiefs have investigated whether a train derailment atPaddington station was caused because the driver had been fasting for ...
crash, near Paddington Station, affected services for days.
A Rail Accident Investigation Branch (RAIB) report said it was "unable to determine" whether fasting and interruption to sleep was a factor in the crash.
But the investigation recognised there was research showing fasting can affect people's concentration levels. The train, which was not carrying any passengers, was automatically derailed after passing a red signal at about 18:30 BST on 16 June.driver had woken at 02:30 to eat a light meal, and went back to bed at 03:30 for a further seven hours. He did not eat anything else before the derailment.
He said he went through a red signal because he thought it didn't apply to his train, the report said.
The derailment damaged overhead power lines which affected Great Western services for days.